CONCEPTUALIZE • VISUALIZE • MATERIALIZE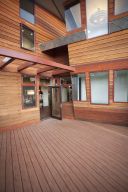 As a firm we strongly believe that quality architecture and construction effect the quality of a person's life. Ease of access, proper flow, function, lighting, and correct spatial proportion. All of the things that make for a truly great project. Therefore, we strive to not only build, but to create a space that will comfort and welcome you. And, perhaps enlighten you.
Specializing in unique projects

DMP Contractors maintains a compelling interest in innovative architecture, design, materials, living environments, sustainable and renewable resources, as well as environmentally friendly building practices. Further more we are committed and inspired to maintaining the integrity of a projects' design, while bringing it to life.
It is our goal to be involved in unique and challenging projects. Projects that challenge not only conventional architecture, but sustainable environmentally conscious construction as well. As with any project that we are involved with, DMP perceives itself as only one part of a greater team. Consisting of the architect, the owner, and us, the builder. In the current construction environment, it takes this team, working together as one, to bring a project through to it's successful completion. DMP sees itself as an interpreter to the architect's and owner's needs, wishes, and desires. It is our duty to translate, from plans to reality, what the architect and owner had envisioned.
When we have done our job properly; quality, design, and construction will have come together to create a unique and harmonious space. It is then that we will have constructed a living environment that you will happily call HOME.

Residential and Light Commercial
DMP Contractors possesses experience in all phases of construction and building types. No job is too big or too small. We specialize in renovations and complete remodels. Such a diverse knowledge allows us to deliver one of a kind, quality construction.
DMP Contractors guarantees:
On schedule completion
Cost-effective process from beginning to end
Final product exceeds expectations
Quality, Integrity, and Pride

Energy efficient construction and Green building practices are our specialties!